Our Newest Catechumens & Parish Council Update
February 16, 2018
On this First Sunday of Lent, we acknowledge our catechumens, Keith Arcicovich and Cory Fullilove, who have been sent to the Cathedral of the Most Blessed Sacrament to participate in the Rite of Election. Now called the elect, and having been received by Archbishop Vigneron, they are in their final period of preparation and purification for the Easter sacraments. Their sponsors, Bill Zuerblis and Bryan Jones, respectively, have been walking with our catechumens and speak positively about their growth and development.
Catechumens are non-baptized persons, and at the Easter Vigil after these Lenten days of Scrutiny (examine) will be led by their sponsor to the font of Baptism. It is an exciting time in their spiritual lives and an exciting time for our community to welcome them in the faith of our Church.
I ask that you greet them warmly, encourage them in the faith, and continue to pray for them throughout these Lenten days.
As part of our Lenten journey and our own examination of conscience, I would invite you to mark your calendars for a couple of dates. On Monday of Holy Week (March 26th), we will celebrate our Parish Lenten Reconciliation Service (communal confession). The liturgy is always so beautiful, prayerful, and spiritually uplifting. Yet many people do not attend. Reflecting on this, Lent would be a good time to renew our understanding of the sacrament and its forms of celebration. To that end, we will be offering on Sunday, March 18th, in conjunction with our Hospitality Sunday a presentation on the Sacrament of Penance in the church auditorium. So plan on socializing a bit with your fellow parishioners, and then reflect with them on your Lenten journey of prayer and penance. Hope to see you there.
On another matter of importance to our parish is the ongoing development of our Parish Council. If you remember, we added three new members in the fall. With the passing of our prior president, Vaughn Adams, we needed to fill his seat (sede vacante). Today, I am happy to announce that the Council selected Mr. John Dunstone as our new president. John and his family have been active members in the parish for over 25 years. John being on the Parish Financial Council and co-chairing the CSA, while his wife, Liz Foley-Dunstone is a lector; and their children, Mary Elizabeth and Patrick, are current and former altar servers. We congratulate John on his new position which is, per the council, projected for two years.
In addition to this, Mr. Mike Dulapa has also joined the Council as Representative of the Evangelization Committee. Mike, if you remember, was our representative to Synod 16 in the Archdiocese. As Mike moves forward, he plans to re-invigorate our Evangelization Committee and present their efforts to the Parish Council. We welcome Mike, and with a renewed energy our Parish Council looks forward to providing direction and guidance to parish life so that, as our Mission Statement says, we can be a Beacon of Light and a Sign of Hope.
In the weeks to come, we will formally install our new president, John Dunstone, and our Evangelization representative, Mike Dulapa, at a weekend liturgy.
May God give to each of you a Lenten journey filled with spiritual renewal and love of our Lord as we together move to the Easter sacraments.
God bless you, Father Duane
As We Enter Lent...
February 10, 2018
All the poinsettias are gone from our sanctuary, throats will be blessed
in honor of St. Blaise, and old palms will be collected to be burned. It can
only mean one thing, Lent is soon upon us. Because Easter is early this
year (April 1st), so too is Ash Wednesday (February 14th) which begins the season of Lent. Ironically Ash Wednesday falls on Valentine's Day.
For some, it may seem odd that this day dedicated to a saint that has become synonymous with love, hearts and flowers, and romance should begin a liturgical season of penance and fasting., Yet upon further examination, perhaps it is the most perfect time to start our Lenten journey. For Lent is a season of love.
Let's give gloom and doom a rest in Lent this year. After all, Jesus advises his followers in the Gospel, "Do not look gloomy like the hypocrites...When you fast, anoint your head and wash your face so that you may not appear to be fasting." (Matt 6:16-18)
So how do we find joy in Lent? Well, we must begin with love, God's love. Before Jesus went into the desert for 40 days, he was filled with the love of his Father which came down on him at his Baptism in the Jordan River.
"You are my beloved Son in whom I am well pleased." Filled with the Father's spirit of love, only then does Jesus go into the desert. Following Jesus, we can find joy and a new life in our Lenten season.
If our Lenten activities do not begin with the wonder of God's love, but rather from some self-centered need to prove our holiness, then our path in Lent will be a dreary one. At times, we think that the more we stockpile penitential works, we will win God's love. In fact, it is quite the opposite. God's love is always present to us. We joyfully enter into prayer, fasting, and almsgiving, so as to open ourselves up to receive a love that is always present. As Jesus opened himself to the Father in the Jordan River and the Spirit came upon him, so too are we asked to open ourselves up to God's overflowing life and love that surrounds us. God loves us first and unconditionally, we don't earn God's love, we receive it and Lenten practices help to open us to that perfect love.
In the upcoming weeks, I'll reflect upon this more in The Pulse. I pray we all have a good and loving Lent. Remember bring your old palms next week, we will create our ashes from them on Ash Wednesday, St. Valentines Day!
Please respond by February 17th for the Monet exhibit. Jeff Smith who is coordinating the event tells me it is going to be a great day. What a wonderful way for us to once again gather as friends and parishioners! God bless you!
2017 Christmas Season
January 11, 2018
Merry Christmas!!! The Christmas celebrations were prayerful and just beautiful. Now that we are well into the Christmas Season, I hope you have time to enjoy family and friends. Given the way the calendar fell this year, we had a short Advent as well as a short Christmas Season.
The Baptism of the Lord is the day after the Feast of the Epiphany (Monday, January 8). No matter how short the season may seem, time keeps marching on. This week-end, on December 30th, I'll mark my 67th birthday. It's hard to believe I was only 38 years old when I came to St. Matthew Parish. Although it seems like a lifetime ago, the journey of faith has been a good one for me, and I do hope for the parish as well.
As we stand on the brink of another New Year, we anticipate still more growth, more challenges, and successes. We have been adding new parishioners to our community which helps keep us stable, our Christian outreach and service remains strong. Our finances would be more secure if we could sell our school building. That is something I would ask every parishioner to put in their daily prayer intentions. We need to move forward on this issue, and with the help of God (and St. Joseph whom we buried in front of the school), I'm sure our prayers would be answered.
Indeed, we have challenges for the New Year, but none that can't be overcome. I feel strongly in what the theme of our 50th Anniversary stated in 1977, "We are here to stay," and in what our 75th Anniversary theme was in 2002, "What was, What is, and What will be!" What we hope to be is as our Parish Mission Statement directs us, "to be a beacon of light, and a sign of hope" on the eastside of Detroit. (Please re-visit our Mission Statement displayed in the back vestibule of the church.)
Our efforts in the New Year should strive for that as we continue to work with the Archdiocese of Detroit to Unleash the Gospel. Happy New Year to all and may your Christmas Season be blessed with peace, joy, and hope in Christ Jesus.
God bless all of you, Father Duane
Synod '16
November 13, 2016
---
Next weekend, the Archdiocese of Detroit will be holding Synod 16, a time to renew ourselves by changing, as the Archbishop says, our "DNA." Moving from maintenance to mission, the Archdiocese will be focusing on a New Evangelization so as to create a Catholic Church presence in Southeast Michigan that is vibrant and growing.
I ask everyone to pray for the Synod, our Archdiocese, and for our representatives, Mike Dulapa, Patricia Camazolla-Godoshian, and our alternate, Debbie Nieddu. I'm sure as they will be experiencing and participating in the Synod, they will be able to report back to us. The format for this has yet to be determined.
Please see the insert in today's Pulse to read the Archbishop's letter.
On another Archdiocesan issue, we congratulate Bishop Mike Byrnes who has been appointed by Pope Francis as Archbishop of the Archdiocese of Agana in Guam. Guam is a U.S. territory in the South Pacific. An island of 210 square miles, 80% of its 165,000 inhabitants are Catholic.
Archbishop-elect Byrnes will be in Detroit until late November to help lead the Archdiocese's first Synod since 1969 before transitioning to his new role in the Archdiocese of Agana.
Please remember that as we approach this historic occasion for our local Church, Archbishop Vigneron is asking all members of the faithful to join him in prayer for the success of Synod 16.
---
God our Father, you have called us to be witnesses to Jesus and have sent us on a mission to lead all people to encounter him.
Send your Holy Spirit to enlighten our minds and enkindle our hearts, so that we may grow daily as your disciples.
Empower us to face bravely the challenges of our time. Keep us close to you, together with Jesus your Son, Mary our Mother, and St. Anne our patroness, as we engage in Synod 16 to Unleash the Gospel.
Transform us into a band of joyful missionary disciples, who will bring the message of Jesus' power and mercy to every person in southeast Michigan.
We ask this through Christ our Lord. Amen.
AMS Collection & Other Updates
October 30, 2016
As a country, we are all grateful to the men and women who serve in our military to protect and defend our nation. With all the "hot spots" in the world, our service men and women are deployed throughout the world and at home. These men and women still have the same needs we do, materially, physically, and spiritually.
For those who are Catholic, the Church provides for our military through the Archdiocese for Military Services (AMS). Like all dioceses, they require funding; and, with limited resources, the AMS has requested the U.S. Bishops to take up a collection once every three years for their needs. St. Matthew participated in the first of these collections in 2013. As we are now in 2016, the opportunity is here once again to assist.
I certainly know that there are a lot of needs that we come to you for; but on behalf of the AMS, we ask that you respond the best you can. Enclosed in The Pulse this week is a brochure outlining the AMS appeal. Envelopes are in the pews for your convenience.
I also want to remind everyone that Tuesday, November 1st, is All Saints Day, a holy day of obligation. As Catholics, we are called to celebrate those who through their heroic and virtuous lives are declared saints and have gone before us in faith.
The entire month of November is dedicated to the dead. As a parish, we acknowledge those whom we have buried here at St. Matthew with our Scroll of the Dead. At the end of the month, we will celebrate our Memorial Mass for them. Book-ending the month with All Saints/All Souls and our Memorial Mass helps to keep us focused on the fact that we are not meant to live forever; and one day, we will meet our Lord in all His glory.
Let these darkening days keep us hopeful for the joy and light of Christ in His Resurrection.
God bless you, Father Duane
Mass for Pardon Update
October 16, 2016
I want to thank the community for the week-end liturgies we celebrated. Per my homiletic reflection on gratitude, I say thank you to all of you for your kind remarks of gratefulness toward me at our Communion meditation on Sunday; when, with the movement of the Spirit, we voiced for all to hear what we're thankful for. Many told me it was a moving experience.
Another moving liturgical experience we had was the Archdiocesan Mass for Pardon. It was an overwhelming experience filling the cathedral; included were nine members of our parish who attended. The liturgy reflected the elements of the Church's Good Friday service. Our Archbishop and Auxiliary Bishops prostrated themselves in a penitential attitude as we reflected upon specific sins of the church asking for God's mercy. As the Mass continued, Archbishop Vigneron delivered a homiletic reflection on God's mercy and our need to ask for it in the midst of knowing we receive the gift of Salvation.
In the Prayers of the Faithful (Universal Prayer), again reflecting the Good Friday liturgy, the petitions were read for forgiveness of sins against the Virtues of Faith, Hope, and Charity. The Archbishop offered a prayer at each intercession. The tone of the liturgy could have been "dark" and full of sadness; but, in the end, it was hopeful and joyful. I think it was because God's mercy and forgiveness is filled with hope and joy.
The message all need to take from the Mass for Pardon is that God's mercy is hopeful and joyful. Perhaps this is a great incentive for the Church as it continues to seek reconciliation. When asking for pardon and forgiveness from the Lord, there is no need to be afraid.
On another matter, I want to remind everyone that this week and next will be our annual "count Sunday." Hopefully, all parishioners will attend St. Matthew's that week-end. Please pass the word, your presence is important.
Just a reminder that our Gold'n Harvest 50/50 Raffle is coming up with the kick-off this week-end. Last, year, we did so well, and it helped tremendously toward our overall budget. I ask you to please do all you can to promote and sell tickets. I will certainly do my part. We do need a successful raffle this year as we try to balance our budget and create a sustainable community.
Once again, I continue to pray for all of you and for the success of our parish. St. Matthew, pray for us!
God bless you, Father Duane
Altar Severs & Acolytes
October 9, 2016
At this writing, we have not yet celebrated the Archdiocesan Mass for Pardon. So, I'll wait to comment on the experience later.
This week I would like to highlight a very important ministry in our parish. The ministry of Acolyte or Altar Server. Typically, this ministry has been fulfilled by our young parishioners, beginning around the fourth grade through high school and beyond. I have always tried to encourage this ministry among our young people as a Youth Ministry. To serve at the altar of the Lord is a privilege, it keeps us actively involved in the Liturgy; and, it increases our understanding of the Church's prayer life. I, myself, began serving at my home parish of St. Dorothy in Warren as a fourth grader and continued through high school. The experience fostered in a me a love of the Liturgy and an awareness of serving the Church.
At this time, due to a number of our young parishioners going off to college, our numbers have been reduced to three servers; and, this will not be enough to cover our schedule. I know we have some young people in our pews, and I would ask that they give serious consideration that, if asked, they would respond to the call. Parents, I would ask you to encourage your sons and daughters in this ministry of service to the Church. You would certainly be setting them on a good path.
Even as I ask for young people to respond, I am also asking some adults to consider being an Acolyte, especially for funerals. Typically, funeral liturgies are celebrated during the week at times when our young people are in school. So, I need adults who can share this responsibility and serve at the altar. If you are asked, please consider this ministry. It is very rewarding.
Once I have the candidates for this ministry, I will have a formation session and review the ritual and your role within it as a server. We need at this time to re-establish this vital ministry in our parish.
God bless you!
Father Duane
Mass for Pardon & Other Updates
October 2, 2016
I write today to draw your attention to two important topics. First, the Mass for Pardon, that I announced last Sunday along with the Archbishop's letter in the Pulse; and, secondly, as I noted in my article last week-end, our current registration in the parish.
As we move toward the conclusion of the Jubilee Year of Mercy in November with the Feast of Christ the King, and the Synod 16 in November as well, our Archbishop Vigneron has taken a bold step in celebrating for the entire Archdiocese a Mass for Pardon. The letter he sent to all the faithful (insert in our Pulse last week) presented his thought on the need for such a liturgy. Certainly, we are, as the Second Vatican Council stated, a pilgrim church, sinning and sinful. We are human and in need of redemption. Christ the Good Shepherd has gathered us together as His flock and has given us shepherds to watch over us and help guide us through the ministry and office of Bishop.
For a Bishop, who as chief shepherd of a diocese to take on a penitential stance on behalf of the entire diocese is certainly a great witness to the need for the Church in its humanity to repent and to show us personally our need to come before the Lord and seek forgiveness for the many ways we may have contributed to the sinfulness of the Church.
But what does the "sinfulness of the Church" mean? In the Archbishop's letter, he references "the sins committed over the generations by our bishops, our priests, our lay ministers, institutions, and all the faithful." Reflecting upon that statement, I'm sure what comes to mind first is the sexual abuse crisis that rocked the Church in 2002; priests who offended and bishops who covered it up. As glaring as this sin became for the Church, other sins may have been committed. A non-pastoral approach to people's hurts oftentimes needs forgiveness. For example, people being scolded in confession when they come seeking mercy and forgiveness, divorced couples told that there was nothing that could be done for them. The misuse of parish funds by institutions or individuals. Parish leadership or parishioners who purposely put up stumbling blocks and cause grievances at their Parish Council meetings or commissions. Systemic racism that sometimes we are even unaware of but nonetheless still exists and for the lack of inclusion of women, gay, or youth in the legitimate governance of the community.
I imagine the list could go on and on. But suffice it to say, these and other sins need to be looked at honestly and brought to the Lord for redemption. As Christ took on the sins of the world on the cross, I respect our Archbishop for the public statement of a need for pardon. To support him in this effort, I, too, will concelebrate the Mass for Pardon on Friday, October 7, at 7 p.m. at the Cathedral of the Most Blessed Sacrament.
I invite any parishioner who feels compelled to repent for the Church in the same way to attend this liturgy. We may not have personally participated in this sinful behavior; but, like Christ, we take on the sins of the community simply because we are part of the community. How many people have looked down upon us as Catholics because of something another Catholic, Bishop, Priest, or lay person did.
Christ died once for all; but we, as an institution, repent for our sins to move forward with a renewed grace and hope so that we indeed can, with a clean conscience, "Unleash the Gospel" for a New Evangelization.
Certainly as a pilgrim church, we will stumble and fall; we are sinning and sinful. But to feel a communal sense of forgiveness because our Chief Shepherd, Archbishop Vigneron, repents on behalf of the Archdiocese of Detroit, is humbling for all of us. Let us stand at the foot of the cross of humility. Join together by meeting in St. Matthew's parking lot no later than 5:30 p.m. on Friday, October 7. We meet for the baseball game outing and for fellowship on Hospitality Sundays, can we not come together for this Mass for Pardon? Let us meet to share rides and support our Archdiocese and our Archbishop in this act of repentance. After all, it is a Jubilee Year of Mercy.
Regarding my second point, I wanted to follow up on the announcement and welcome of our new parishioners since the Mass Mob in June of 2015. I think we are all making a concerted effort to invite people to St. Matthew's and to glean new parishioners. It is so important to the sustainability of our parish. I am happy to report that since the Mass Mob, we have registered 22 new parishioners/families. All of whom are contributing to the parish either through envelopes, on line giving, ministry, and/or attendance. Keep up the good work!
However, on the other side, we lost seven parishioners through death and 10 parishioners/families have moved away from the parish but are still contributing. Some return on occasion, but all still want to be parishioners at St. Matthew's.
So we are not running a deficit, we are maintaining with a slight positive edge. But our work still lies ahead of us. With 227 registrants, totally 322 parishioners, we still need to invite more people to the parish. I'm looking forward to our Synod 16 on evangelization. I'm sure our diocesan spirit will have results here at the parish level.
God bless all of you!
Detailed Fiscal Year 16 Financial Report
September 25, 2016
In the spring of each year, as you know, we participate in the Archdiocesan (AoD) Catholic Services Appeal (CSA). This year, our target amount was exceedingly high, $22,850.00. This was due to the previous year's income which was inflated owing to our Mass Mob (almost $20,000) and a legacy gift of $50,000 given to us. This additional almost $70,000, based on the CSA target formula, raised the target approximately $8,000. It seemed to me that this was an unfair target because these were one-time gifts not to be seen again, and it did not reflect the actual parishioner base who would need to raise that amount of money. That being said, I appealed the target to the AoD CSA Review Committee. Typically, these target appeals are refused so we had to be prepared to meet the full target. We made an extra appeal to parishioners, both from the pulpit and in letters especially to those who do not typically respond to the CSA. Indeed, the parishioners of St. Matthew's met the challenge and pledged $29,245.
Personally, I was overjoyed and relieved that we would not have to take out of our savings this much needed $8,000.
This summer, the Review Committee completed their work; I was informed that our appeal was reviewed and that they agreed with our special circumstances and lowered the target by $7,569, giving us a revised target of $15,281, which is inline with our usual amount. Both the Mass Mob and legacy gifts were removed from the formula, but they reminded me that the assessment (AoD tax) would be applied to both.
Needless to say, this will be an extra amount to be paid, but it is not as great as the increased CSA target amount would have been. Certainly, we will meet this by the additional money from CSA pledges. From the amount pledged and the lower target, our parish can realize $14,000 toward our budget at a time when we have to subsidize our overall budget from savings; this can certainly be a blessing.
We oftentimes don't raise this amount of money in a fund-raiser. But your generosity and faithfulness has come through along with an understanding Archdiocese. So I ask you please be faithful to your CSA pledge. It means so much to the parish to have it fulfilled, which can surely bring about a greater sustainability of our parish. As an act of stewardship, you have pledged generously, and I ask God to bless you for your sacrifice.
In gratitude, I would like to thank Bill Zuerblis and John Dunstone for chairing the CSA and for all their hard work on this matter.
On this Stewardship Sunday, I would like to draw your attention to the Financial Report on the front page of The Pulse. I am happy to point out that our expenses have been cut over the previous year mainly due to lower utility costs. And with the "Smiley Face" on reaching our collection goal, we were able to reduce our subsidy by $50,000.
As I mentioned at the announcements last week, we are once again moving forward with the marketing of our school buildings. There are once again three entities that are expressing an interest, and one of them is Pansophic, who made an offer before but failed to secure their charter authorization. I feel confident that we will find success in this coming year and our school buildings will be sold.
On a more pastoral matter, I want to remind everyone of our Anointing Mass next week-end. During the 4:30 pm Saturday Mass and the 10 am Sunday Mass, anyone who is suffering terminal illness, chronic illness, anticipating surgery, depression, or is need of physical healing is invited to come forward for the laying on of hands and anointing in the power of the Holy Spirit. I always find the celebration of the Sacrament of Healing a moving experience and know that I pray fervently for your health and well-being. I know how critical it is to be healthy in order to carry out the ministry God has given to us. He restores us to health so we can be restored to service. This coupled together allows for a full and happy life in the power of the Holy Spirit.
Next week, I will comment on our new registrations in the parish. The work of evangelization continues, and we are indeed participating in it.
God bless you!
---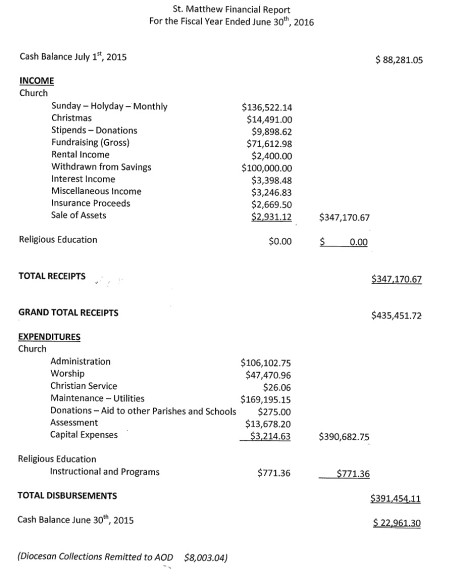 Mass Schedule
| | |
| --- | --- |
| Sun | 10:00am |
| Mon | No Mass |
| Tue | 9:00am |
| Wed | 9:00am |
| Thu | No Mass |
| Fri | 9:00am |
| Sat | 4:30pm |
All Services