Mosaic Dome Exhibit
The dome adorning the sanctuary of St. Matthew Church is considered to be one of the largest such examples in the United States.
The creation of master artisan Andrew Maglia, it is estimated to contain over 1.5 million Sicilian glass tiles and covers over 1,300 square feet. It truly is a sight to behold.
Rich with symbolism and beauty, explore the domes intricate detail with the interactive exhibit below!
Interactive Exhibit
Click the photo below to be taken to the interactive exhibit at the Google Cultural Institute.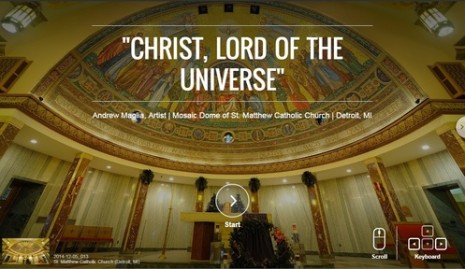 Dome Restoration
In early 2008, a failed air exchanger filled the church with steam, severely damaging the mosaic dome and the painted canvases that adorn the ceiling arches.
Under the careful supervision of Kenneth Katz, former conservator at the Detroit Institute of Arts and owner of Conservation and Museum Services of Detroit, cleaning agents were applied. A group of parishioners spent weeks on scaffoldings scaling away a decades-old patina that had reacted with the steam and water damage. An amazing transformation took place as the cleaning ofof the upper dome and the removal of the patina brightened colors and revealed details that had been hidden over with 50 years of grime that had accumulated before the incident.
Bishop John Quinn, now of the diocese of Winona, rededicated the dome in September, 2008
Photos of the damage and restoration are shown in the gallery below.
About the Artist
Born in Sicily and a native of Catania, Andrew R. Maglia (1905 - 1974), designed and created the dome and the stained glass windows throughout the church.
He began his craft in Italy at the age of 14. His work was based on an ancient European guild system. He immigrated to the U.S. in 1923 where he spent time in Massachusetts and New York apprenticing and learning the ancient techniques of his trade. He moved to Detroit and eventually founded Maglia Studios.
The mosaic tiles that make up the sanctuary dome were ordered from a very small factory outside of Venice. Beautiful glass tiles were used, and the shades mixed to make unique colors. The tiles were assembled in Italy into panels that would become the mural using Maglia's design. The panels were then shipped to Detroit to be installed in the domed ceiling of St. Matthew Church. The installation was complete in late 1959, two years in the making.
Although there are other works by Andrew Maglia in the Detroit area, he considered the mosaic mural at St. Matthew Church to be his most beautiful creation.
Andrew Maglia remains one of the most renowned American stained
glass artists of the 20th Century.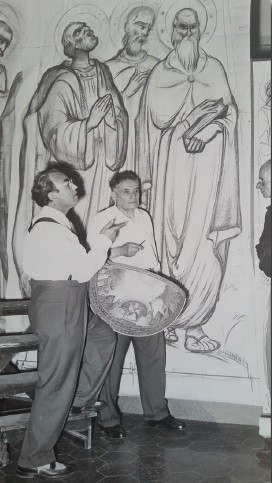 The photo above depicts Andrew Maglia holding the "sketch", a hand-painted, metal scale-model of the concept dome. The large charcoal drawing behind him (called a "cartoon") is the full-size rendering used to create the finished mosaic artwork
Mass Schedule
| | |
| --- | --- |
| Sun | 10:00am |
| Mon | No Mass |
| Tue | 9:00am |
| Wed | 9:00am |
| Thu | No Mass |
| Fri | 9:00am |
| Sat | 4:30pm |
All Services